Specially designed motor for effective processing of wide range of ingredients
Improved design that prevents coupler and motor damage for long lasting performance
Ease of use and cleanability
Designed for a 'Best in class' mixing grinding
High-Quality blades for perfect mixing and fine grinding performance
Open coupler for easy cleaning and maintenance
Click Jar assembly for secure and easy locking
Auto cut off for overload protection
Advanced ventilation system for enhanced motor life
1.5-litre wet grinding jar, 1-litre dry grinding jar and 0.4-litre chutney grinding jar
Speed Configuration: 3+1 pulse
Warranty: 2 years on product
Power: 600 watts
Includes: Mixer grinder and 3 jars
Philips HL7710 600-Watt 3-Jar Mixer Grinder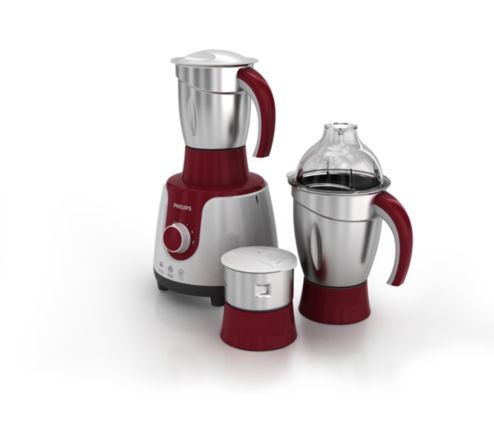 Powerful, superior and reliable mixer performance
Philips HL 7710 600-Watt 3-Jar Mixer Grinder Specially designed motor for effective processing of wide range of ingredients, the Improved design that prevents coupler and motor damage for long lasting performance ,Ease of use and cleanability, Designed for a 'Best in class' mixing grinding, High-Quality blades for perfect mixing and fine grinding performance.
Power packed 600W performance motor
Power packed 600W motor for tough processing of ingredients.
Mixer has specially designed blades for perfect mixing
Specialised blades helps to cut even the toughest ingredients with ease.
Advanced ventilation system keeps the mixer body cool
With the use of advanced ventilation system you can prevent the ingredients being heated and retains good taste.
Auto cut off protection for safety of the mixer motor life
Enhances the life of the motor.
Click lock for secure mixer jar lock
Click lock helps to firmly lock the jar and ensures longer life to the coupler.